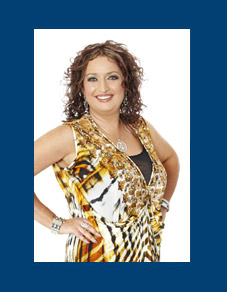 About the Property Lady
Melissa Opie loves property. It's a love affair that has spanned more than 20 years, during which time she has continued to learn, grow and invest, inspired by the  joy of helping others achieve their financial goals.
Melissa's work ethic was passed down from her parents, who sent her to a private school with the proceeds from selling a car her mother had won in a raffle. This taught Melissa about the importance of using whatever you have to invest in your future.
Melissa started her professional working life as a legal secretary. Her career came to an abrupt halt when, at the age of 19, she was diagnosed with cancer and told she had only months to live. She refused to accept her prognosis and continued to work, often organising work around her chemotherapy sessions. This represented a turning point in Melissa's life, forcing a reassessment of her career goals and personal priorities.
It was then that Melissa decided to pursue her first love: real estate. She started working as a receptionist for developer Central Equity. She was soon taken off the switchboard to work in sales, selling her first off-the-plan penthouse at the age of 23.
She purchased her first property at a very young age. That purchase was the beginning of a great love for property that has made her a millionaire several times over, and led her to start Keyhole Property Investments (KPI®), a Melbourne-based buyer's advocacy business. Since then, Melissa has grown KPI to include property management and vendor advocacy. Melissa, also known as 'The Property Lady', is passionate about helping everyday investors make educated decisions whether buying, selling or leasing property Australia-wide.
Melissa holds a Certificate IV in Assessment and Workplace Training and runs courses for the Real Estate Institute of Victoria to teach agents how to become buyer's advocates. She is also a qualified mortgage broker, and holds a Certificate IV in Financial Services (Finance/Mortgage Broking).
She has won a number of awards, including the REIV Innovation Award 2013. The Leader Business Awards Melbourne's Local Favourites Real Estate Agency in 2010 and Melbourne's Overall Most Favourite Real Estate Agency in 2009. She also won the REIV/The Age Buyer's Agent of the Year in 2007, 2008 and 2011 and a Finalist in 2012 and 2013. She was the chairperson for the North Western Division of the REIV from 2006 to 2010 and was re-elected for 2011–12.
Melissa's reputation as a leader in the industry has led to numerous media requests from outlets including The Age, the Herald Sun, the Sydney Morning Herald, Australian Property Investor magazine, Money magazine and ABC radio. She has appeared on The Morning Show, Melbourne Property TV and Today Tonight.
For more information about Melissa or to contact her visit  <www.kpi.net.au> or follow her on Twitter @thepropertylady. Join the KPI Facebook group by clicking the 'Like' button to stay up-to-date with the property market.
Click here to book me for a tailored speaking engagement.
Melissa's awards