Register
for bonus material
Login

For some time now it has become clear that we need to look beyond traditional superannuation in order to create suffice assets for a comfortable retirement. By investing in astutely selected residential property, which has good long-term growth potential, high rental income and desirability to quality tenants can be an excellent way of achieving this.

Melissa Opie
Melissa and her team will:
L

ocate a shortlist of suitable properties


E

valuate properties specifically based on your needs


N

egotiate the best possible terms for your property purchase


D

eliver optimum, measurable results.
Find The Right Property Buy At The Right Price
- Melissa's latest book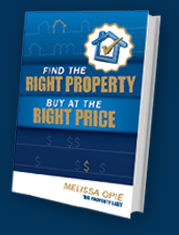 Are you keen to get into property investing but can't seem to take that first step? Don't worry, you're not alone. In all my years as a Buyers' Advocate I've found there are two main roadblocks that stop everyday people from taking the plunge: the fear of choosing the wrong property and worry about paying too much.
That's where my latest book, Find the Right Property, Buy at the Right Price comes in. I've focused this book on those two elements alone: how to make sure you chose the right property for maximum capital growth and how to know you're paying what it's really worth. Buy the Book!